It's been a long time coming. I've been having some serious problems with bandwidth from home. Since I work remotely, this has gotten to be a serious issue. Regular daily checks against Speedtest would result in abysmal numbers (we're talking between 8 and 15 Mbps.) I knew my cable modem could do better, and after a bunch of debugging, I realized it was most likely the Archer C7 TP-Link router I was using. This was originally supposed to be a decent performer, but in the end, it's turned out to be absolute crap. So I went shopping.
The fix turned out to be replacing the router with a Nighthawk AC2300 Dual Band Router The installation was super-duper easy, and setting it up with my reserved IP addresses, guest network, customized DHCP range, etc was a breeze. The initial config was done via an app on my phone, which was pretty helpful, as it allowed configuration while hopping around on the new Wifi network I was creating.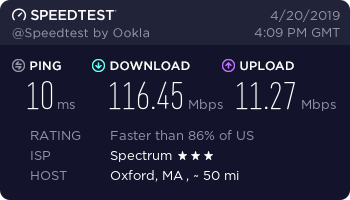 So how fast is it? Well, here's what Speedtest is showing me now. To say this is an improvement would be a gross understatement. This is epic.
Thanks Netgear for providing an excellent product with excellent performance results. I'm a fan.