The "Magic Mirror" craze got pretty big in the hacker community a few years ago. For those who may not be familiar with them, a Magic Mirror is setup using a small display behind a 2 way mirror to add text and information to your bathroom (or wherever) mirror. It's pretty cool, and can be done at very low cost and with only a little bit of tech know-how.
I've always loved having 'displays' around my workspace – showing information that doesn't need to sit on my 'work' monitors, but is handy to be able to glance at. Being able to quickly glance oer and see dashboards showing system status, or even something showing date, time, and the weather outside.
A few months ago I decided to take one of my spare monitors at home mounted on the wall over my desk and turn it into a permanent display. It would show my current calendar, weather, stock prices, stuff like that. I got to work.
The Hardware
This part is probably the easiest. I used a spare 24″ LCD monitor I had originally mounted to be a sort of TV display. It wasn't showing anything yet, so I just co-opted it for the Mirror display. It had an HDMI port on it, so it was perfect.
The second component is a Raspberry Pi3 I had lying around from some other project. This particularly Pi is pretty old, so using it just drive a mostly static display seemed great. This one has a case and power supply. I was able to just stick it to the back of the monitor, coil up a HDMI cable next to it, and I was all set.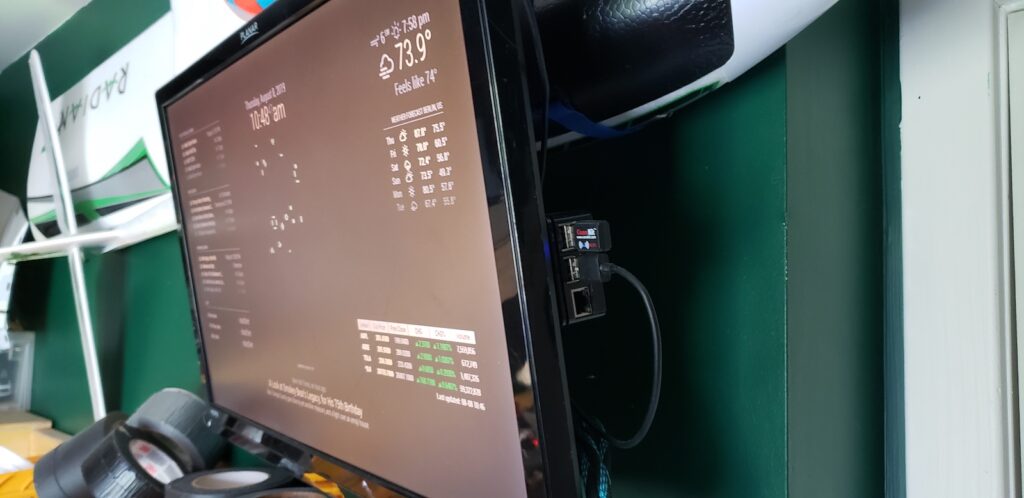 A small note here. A second display I built for our Makerspace actually uses the monitor itself to power the Pi, since the monitor had a USB port on it. A USB -> MicroUSB cable meant as soon as the monitor was powered up, the Pi would boot and start displaying information. Pretty handy.
When building up these systems, I highly recommend having a keyboard and mouse to plug into the Pi. You can use an 'all in one' wireless keyboard/mouse from Amazon – these are great because you don't have to deal with the cables (particularly when the monitor is mounted on a wall), and you can just unplug the USB adapter and use the keyboard on another project at any time.
The Software
The needed packages are pretty straightforward:
Raspbian – the default Linux installation for the Raspberry Pi. Get this installed and up to date (Run the package manager updater after the install to make sure you have the latest and greatest of everything)
Using a command line or the package manager, make sure you have the following secondary tools installed (these are not installed by default):

Chromium (apt-get install chromium-browser)
npm
xdtotool

Magic Mirror 2 – This is the core software that will run your display. Follow the directions on installation carefully. Clone the repository and get it ready for use. I use the manual installation procedure , it works best for how I build systems. YMMV.
Configuring the Host
At this point, I'm assuming the manual configuration of the software above has gone correctly, and you're able to either use the Raspbian browser or Chromium to connect to http://localhost:8080/ on the Pi and view something approaching the display you want.
Now, this is where I've seen a lot of tutorials and other reference material fall down. How do you go from a desktop showing your display to something that will survive reboots, auto-configures itself, etc. Well, here's what I did to make my display boards stable and rebootable without user intervention.
Some of these things are convenience items, some are mandatory.
For the love of all that is holy, set your password. The default 'pi' password is well known, please reset it. This device will be running unattended for days/weeks/months. Please change the password.
Rename the host – this is super handy so you can ssh to it easily. Edit the /etc/hostname file and give it a nice name (mine is 'mirror'). Once you do this, from your local network, you'll be able to ssh into the pi via 'ssh pi@mirror.local' – neat trick, huh?
Create an autostartup script for the Pi that starts the browser in full screen mode just after the desktop loads. Best way to do this is to edit /etc/xdg/lxsession/LXDE-pi/autostart and put the following code in that file:
@xset s noblank 
@xset s off 
@xset -dpms 
@lxpanel --profile LXDE-pi 
@pcmanfm --desktop --profile LXDE-pi 
@xscreensaver -no-splash 
@chromium-browser --app=http://localhost:8080 --start-fullscreen 
Create a cron job entry that will cause the magic mirror server software to restart on reboot. Easiest way to do this is use the 'crontab -e' command to make a new entry. Add the following line to the bottom of file (note, this assumes that the Magic Mirror software is installed in /home/pi/MagicMirror – adjust if that's not the case)
@reboot cd /home/pi/MagicMirror;node serveronly > /home/pi/nodeserver.log 2>&1
On reboot, your mirror software should come up cleanly. Here's a small trick though that makes remote maintenance easy. If you make a change to the config of the server – add a new module, change sources, etc, and you're like me and have long since detached the keyboard and house from the unit, this little command will force the Chromium browser to do a reload, bringing in the changes you make to your config file. No need to reboot!
DISPLAY=:0 xdotool key F5
Conclusions / Sum-up
I've been running my display at home, and the second display up at the lab for a few months now. I'll write some more on a few of the modules I've used (hooking up to my home automation stuff has been interesting), but that'll be in a future article. I love having the date, time, calendar, stock prices, and weather always visible. The news ticker at the bottom has been sort of 'cute', but I really don't watch it that much.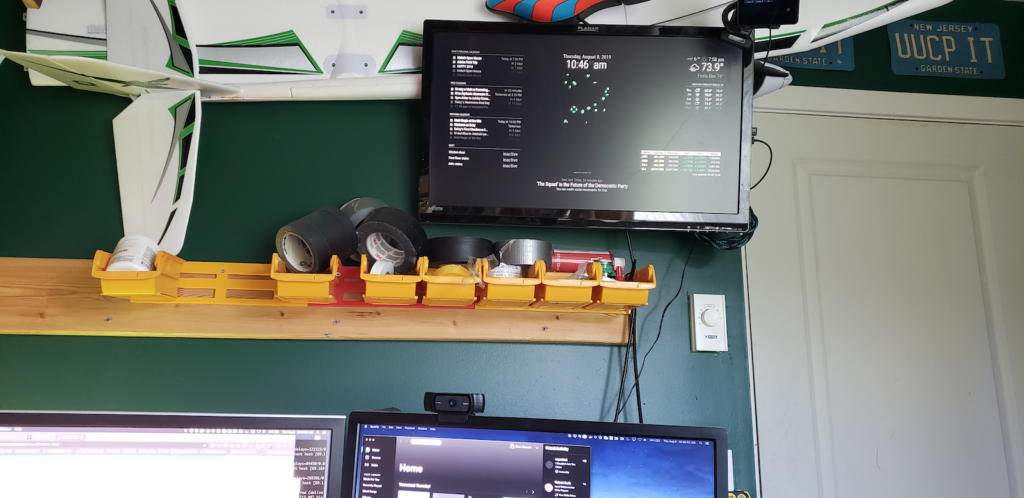 There are literally hundreds of third party modules available for the mirror software. You can configure the layout of the screen to do just about anything – from showing phases of the moon to displaying the next time a bus will stop in front of your office. Enjoy!