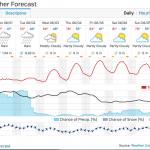 You know that scene in movies where people go running out into the field and dance in the rain after a long drought?  "Our crops are SAVED!".  Or the scene at the end of Dune (yeah, if you don't know this spoiler by now….)
I feel like that today.
The 2 storm fronts that came through Berlin over the last few weeks completely missed us.  We've been doing some watering to keep the apple trees and strawberries and garden materials going, but the lawns and fields have been suffering.
Now?  A steady, not deluge-rain, cool temperatures, and ahhhhhhhh.!