As any quadcopter / drone pilot knows, the more batteries you have on hand, the longer you can stay out doing what you love – flying! Unfortunately, this comes at a price, and no I don't mean the cost of the batteries. Those puppies need to be recharged before you can get up in the air again.
When the sport started, many people had single chargers – a single power source that could charge one battery at a time. That didn't last long, and gang / parallel chargers became the norm for active pilots.
But charging batteries in this way needs a little math. And since I spent this morning doing it the WRONG way, lets quickly go over the RIGHT way to do this.
The components
First, lets review the pieces.
A power supply. The juice has to come from somewhere. I'm working with 3S batteries, which run at 12v so my PS needs to match that. Tenergy sold a very nice little power supply with the charge controller I use. The most important thing to note on the PS is it's rating. Mine is 5000ma (5 amps). I can't draw more current than that. Remember this later.
A Balancing Charger. I use a Tenergy TP6-B charger, which has served me super-well.
A balance charging board. There's zillions of these out there, ranging in quality all over the map. They're pretty simple devices. Looks like Crazepony has a decent one that includes fuses. I picked up a cheap chinese version a year or two ago.
Batteries (duh). What sort of batteries you use is completely up to you. When doing gang charging, they have to be the same voltage (2s, 3s, 4s, whatever), and relatively close in their C ratings and capacity. In this article I'm using Floureon 1500mAh 35C batteries, which are pretty low-end in the current world (new 4S batteries are on the way!)
A charging bag. This is for your own safety and the safety of your house, but it's a good idea no matter how you slice it. I use a bag most of the time, though the photos below do not show it.
Great, but, what amps to use?
And thus the question is asked. When using a balancing charger like the Tenergy, there's several menu options for how many amps to charge with. The general rule of thumb is you should charge your LiPo batteries at '1C', meaning putting the amps into the battery that matches it's capacity. For my batteries, they have a capacity of 1500mah, so I should charge them at 1.5A. Easy, huh?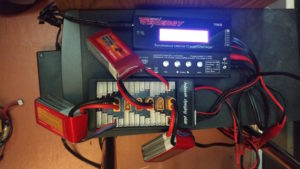 Now we start talking about parallel charging, where you're charging more than one battery at a time. They are hooked up in parallel (so in essence look like one big battery to the charger), so when calculating what amperage to use, just add up all the capacities.
BUT! (there's always a but, huh?) – whatever power supply you're using can only provide so much current. Look on the power supply and you'll see something like "Maximum 12v 5000mah" (or might just say '5A'). That's the maximum current the power supply can crank out. You should never set up your charger to draw more than that value. It may work, but you'll be stressing your power supply and could over heat / damage it.
So, given all this, with my power supply rated at 5000mah, and I'm working with 1500mah batteries, I can charge 3 batteries at a time. I set the charger to provide 4.5A power at 12v, plug my batteries (and the balance plugs) into the board, and hit go!
So what did I screw up?
Well, somewhere along the line, I had forgotten the basic math above, and have been charging only 2 batteries at 1.5A. Which, as you can imagine, takes something like an hour and a half per charge. Somehow I got the cobwebs out of my brain and remembered the math, and just recharged 3 1500mah batteries in 45 minutes.
MUUUCH better.