For a while I was very into an interesting niche of games. Generally referred to as 'incremental games', these games combine "Sit back and watch stuff happen" with "click a bunch of times to do some small task over and over again." The games tend to lea a combination of watching things run, and 'click something to move the game ahead'. Some examples are Cookie Clicker, the Paper Clip Game and the Kittens game.
Naturally this made me look at games like this for mobile, and after some digging around, I found Tap Titans 2.
Now, this game has a cute backstory – Titans (big monsters) are appearing around the world, and you lead a band of heroes to head them off when they appear before they wreak havoc.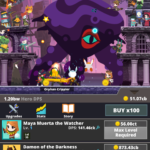 The basic idea is pretty straightforward. Click on the screen, your hero makes an attack and does damage to a titan. Do enough damage, the titan is destroyed, and the next one appears. Each time you destroy a titan, you get a certain amount of gold. That gold can be used to summon and level up other heroes to help fight the Titans. Every 5 titans there's a Boss, if you defeat the Boss, you move on to the next stage. At some point, the amount of gold you're getting can't level up your heroes enough to defeat the Boss, and you stop progressing. When this happens, you have the option to Prestige, which basically resets the game back to the start, but you get a ton of bonuses (skill points, artifacts, etc) that help your hero be stronger the next time through. In the beginning, getting to a point where you Prestige may take a day or two. In the upper levels, it gets down to a few hours, and then with certain artifacts and other bonuses, you can do it in 20 minutes.
So where's the challenge and interest, and why have I been playing this game non stop for almost two months?
Well, first, the graphics are outstanding. It's a beautiful game to watch and interact with. The developers have taken lots of time paying attention to the animation and color detail.. almost to a fault! With the game in full graphics mode, I'll drain a battery faster than I can charge it!
The second reason is… well, it's fun. I know it sounds odd to watch a game mostly run itself, but it's the small changes, upgrades, tweaks to the damage boosts, figuring out when to pay for what when… it's… fun. Anyone who plays incremental games I think has a hard time explaining why it's relaxing and enjoyable… it just is.
Lastly, the developers did a lot to keep the game interesting. There's tournaments every week that pit you against similarly-levelled players. There's regular drops of upgrades, 'fairy boxes' (big gold bonuses), and a simplistic, but pleasant Clan system where you can team up with other people to gain bonuses. Being in a strong clan can be a huge boost to how far you get in the game.
Do I recommend it to everyone? Nah. Do I recommend it to people who like incrementals? Definitely. It's free, and is definitely not a "pay to win" game. I played for a month without contributing, and decided in the end to buy some diamonds, not because I needed them to win (I haven't even spent them yet), but because I felt the developers had done a great job, and this was my way of supporting them.