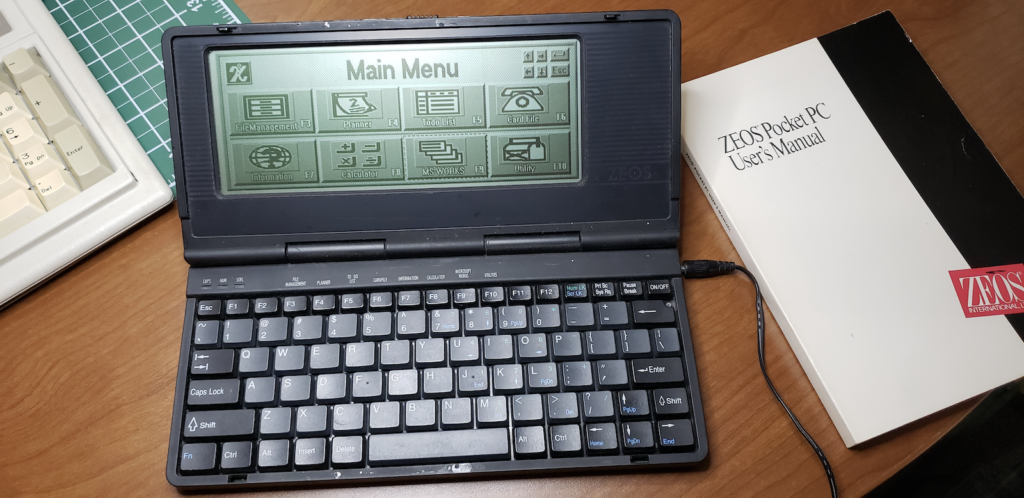 When PCs were hitting their stride, handheld versions were starting to make their appearances. The early versions were pretty limited in their performance, but they were functional, mobile, and not too bad.
A fellow on one of the retro forums reached out to me recently and asked if I'd be interested in a Zeos Pocket PC. At first I thought it was another Windows CE machine, and I was really avoiding those. But this turns out to be a very basic DOS based handheld, so I said "Sure, I'll take it!"
The Zeos Pocket PC was made in 1992, around the time the HP 95LX and similar 'clamshell' computers were being manufactured.
Specifications
Released: 1992
Original price: $595 ($1,108 in 2020 dollars)
CPU: NEC V30 (80C86) @ 4.77MHz / 7.15MHz
Memory: 640k RAM
Display: 80×25 LCD text, 640×200 graphics
Batteries: Two AA
MS-DOS 5.5
1.3lbs
Interesting Bits
The Zeos PC has a couple features on it that make it pretty interesting. The first is it has a parallel and a serial port on it. Unfortunately, they use a custom cable connector (which I happen to have), so connecting up to them can be a little challenging.
However, they also have dual PCMCIA slots, which means it's easy to dock new cards into it (conveniently located under the case). The Zeos supports SRAM cards… these cards are Type 1 PCMCIA devices, which are pretty hard to find, and require a battery in the card to retain their storage. I have 1-2 that I use on my Newtons, so I'm looking forward to tinkering with them.
Another neat feature is it has a quite large and comfortable keyboard. That can be a win or lose – easy to type on, but it makes the entire unit quite bulky. Not something that would fit comfortably in a jacket pocket
The screen is not particularly easy to work with. It has no backlighting, so visibility requires just the right light setup (a direct light, but not one that reflects badly).
It is, however, extremely light and portable for a fully functional PC-DOS machine from 1991.
Conclusions
The Zeos Pocket PC is a cute representation of the state of DOS based computers in the early 90's. Extremely limited funtionally in it's basic state, but I'm going to see if I can get some simple applications on it. It comes with Works (an extremely simple software suite for notes and stuff), but it might be fun to get some more complex applications on it and get some connectivity going.