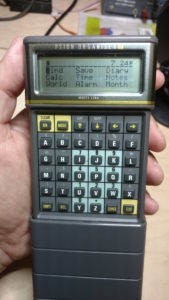 Manufactured in 1986, the Organiser II was really the first successful PDA. Psion started with the Organiser in 1984, billed as the 'First Practical Pocket Computer'. This unit came out 2 years later and had a larger display, more RAM and a faster CPU.
One of the big innovations were 'Datapaks' – modules that could be plugged into the unit with either pre-loaded software or additional storage.
Specifications:
Dimensions: 5.6″ x 3.0″ x 1.1″
Weight: 8.8 oz. (without battery)
Display: 4 lines x 16 characters, Dot matrix LCD.
Keyboard: 36 keys, audible click, auto-repeat.
Memory: (CM) 32k ROM, 8k RAM. (XP) 32k ROM, 32k RAM.
Moss Storage: 2 slots for program & Datapaks.
Interfacing: 16-pin slot for optional peripherals.
Power: Standard 9 volt lang-life alkaline battery
For more information, check out oldcomputers.net page on the Psion Organiser.