So I frequently park myself at the local Panera to partake of their free wireless, tasty coffee, and comfy chairs. It's also convenient that it's halfway between home and my son's school.
Yesterday, I stopped by just to get out of the heat. Since I had an hour to kill, I worked up my last blog post, put it together and posted it. So far so good. I traditionally look at the site at it's base URL (https://planet-geek.com/) just to make sure everything is okay. This time, apparently everything was NOT okay.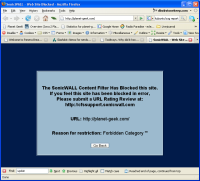 Apparently access to my blog has been blocked by the infamous Sonicwall 'content protection' system. Nice of them, eh?
Further research into this problem, by following their url, showed that I was not blocked for my abysmal spelling, my poor site layout, or my lack of meaningful content, but that I was simply classified as… pornography.
I had no idea geekitude had slipped so far into the internet's dark underworld.
Naturally, I immediately put in a request to have it reclassified, and demanded an explanation as to WHY my little corner of geekness has been classified as Pornography. Alas, Sonicwall doesn't provide such information, you may simply ask for a reclassification, and they might get around to it. In 8-10 days. What do you bet that I won't hear a thing from them in that timeframe?
If you'd like to grease the wheels against this idiocy, please go to Sonicwalls' ratings page, look up 'planet-geek.com', and request to have it reclassified as an "Information Technology" website.
I still would very much like to hear from Sonicwall, or from anyone else, who has had their site randomly excluded from anyone who uses their product, with no notification and no recourse except for a 'request for reclassification', why this occurs and what can be done about it. I'd also recommend that ANYONE who hosts or runs a website to plug their URL into that page and check to see if they're being blocked.