Smartwatches. They're the new cool toy for geeks. Having a small mainframe on your wrist sounds pretty nifty. But has the time come for everyone to strap a mini-cray to an appendage? I'm honestly not sure.
I'd been resisting jumping onto the smartwatch bandwagon for a long time. When Pebble proved that there was a demand for the gadgets, I watched with interest, but the device didn't seem polished enough to be worth the expense. So I waited.
Then the Apple Watch came along, and I was still underwhelmed. Super expensive, and because I no longer used an iPhone, not really helpful to me.
Then Android Wear happened, and I began to take an interest.
The first generation of smartwatches was pretty limited. Low battery life, poor performance, clunky look. I wasn't feeling the buzz, but I could see there was potential there. Then Android Wear 2.0 was announced, and I realized my time was near.
The amount of time I was spending looking at my phone was reaching criticality. I needed a way to be able to be notified about meetings and messages, without having to haul out the damned black slab everytime. And, lets be honest, I like knowing what time it is. So yes, one of the reasons I wanted a smartwatch was I wanted to use it… as a watch.
My employer has a great perk in that you get an allowance each year to spend on health related items. A gym membership, a yoga class, or… a smartwatch, for helping track activities. Given this final nudge, I decided it was time.
Now the next step is to choose which one. I knew I wanted Android Wear 2.0 compatible devices, and also wanted something that didn't look completely dorky. I have an advantage in that I have big hands, so most of the watches would look just fine next to my meaty paws.
I settled on the Fossil Q Founder Gen 2. I liked the looks, the price was reasonable, and it was Android Wear 2.0 compatable. The styling was quasi-retro, in that it had a light brown leather strap, stainless steel case, and classic lines. Amazon click, and it was on its way.
First impressions
I like it. I find it attractive, comfortable, and useful. It is a very good watch. I love that I can customize the watch display to show me other small tidbits of information. Temperature, how many messages I have waiting, how many steps I've taken today, battery level, etc. They are all available at a glance, with the display going into a simpler mode when the watch face is not turned toward me, thus saving battery life.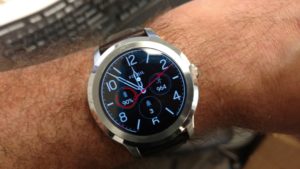 I've always been a sucker for geeky watches. I totally had a Casio Databank when I was a kid, and later moved up to good backpacking / hiking watches for backcountry stuff, but this is in a league of it's own. This is a machine with 4gig of storage, a gig of RAM, and a 64bit 2.1ghz CPU with 3d graphics capability. Those are specs you'd see on a desktop machine from a couple years ago, all on a computer that lives on your wrist.
So, how's it work?
Eh
I have to say, it's… okay. Don't get me wrong, it's an excellent watch. It tells time, shows me some basic information that I need to have quick access to, but… I'm not blown away by it's utility. I find the act of staring at it, manipulating menus or scrolling through options, or using a swype-like interface to write a text message tedious and awkward. If I'm going to do any of that, I might as well pull out my phone, which I have to have with me at all times anyway, because the watch basically functions as an extension of the phone. At this, it excels. If I find a function doesn't work or is unavailable on the watch, I can whip out the phone and get things done.
So where does this leave us on the plusses or minuses of a smartwatch? Unfortunately, it's still in a gray area. As a geeky watch, I think they're cool and nice looking and work. As a logical extension of the phone in a new and useful way, I think there's a long way to go.