There's something pleasant about a quiet morning like this.
It's Sunday morning. It's rainy and cold outside, but nice and cozy inside. I can hear the water dripping on the porch and the windows… it's soothing and relaxing. Some quiet jazz is playing on the Echo in the living room while I'm parked on the couch doing geeky things on the laptop. A nice cup of coffee sits at hand…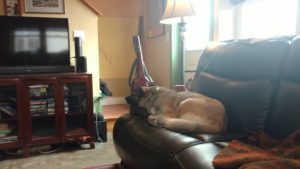 We're dogsitting this weekend, which has been going just fine. Her name is Nessie, and she's super-low key and enjoying hanging out with us.
These times are super-special to me, and the last few weeks haven't allowed many of them. I'm grateful I have a peaceful, safe, comfortable place I can relax and recharge.