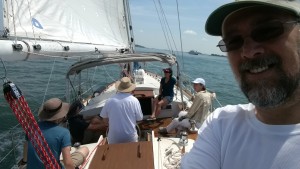 This afternoon Zach and I took advantage of a Meetup group in Boston to go sailing on the 'C'est si bon', a 46ft Formosa out of Marina Bay, south of Boston. I'd sailed with Ralph before, but this was the first time I was able to go with my son Zach. It ended up being awfully hot, and not much wind, but as many have said before me, a bad day out sailing is better than a good day in the office. We had enough wind to take us from Marina Bay all the way to Deer Island and back again over around 5 hours.
We had a great time, and Ralph was as always a wonderful skipper. We had a crew of 6 total, which was just the right number of people, with skills ranging from newbie on up.
I ended up being completely wiped out by the trip, and once I got home, fell into a zombie-like sleep. I'm still sore and worn from 5+ hours on the water, but it was a great day out.