AR gaming is no longer just a concept. Thanks to Apple's ARKit and Google's ARCore – development platforms allowing mobile developers to create AR games with relative ease – this form of gaming is now available on some of the most popular smartphones on the market. Particularly where Apple is concerned, we've already seen a lot of interesting games released, and there are surely many more to come.
The most interesting category that hasn't quite exploded just yet, however, is that of mobile games being adapted to the AR format. These games have the advantage of familiarity and foundations of success, and could be some of the first major hits in augmented reality if and when they're adapted. It's a precedent that's already been set by games like Stack AR and a few others, which are building on previous mobile titles. But if we were to bet on the kinds of AR titles people will be buzzing about in another six months or a year, these are some of the games we'd be keeping an eye on.
Angry Birds
It should just about go without saying that Angry Birds will always be at the forefront of mobile gaming. Through numerous versions, it has always been among the most popular titles in the app stores. What you may not know is that an Iranian company produced an AR version of Angry Birds back in 2012! It was said to make it appear as if the game were happening in 3D right in the room you're standing in, which pretty much describes the point of AR as we now know it. We're not suggesting this particular game will now make it big, but the fact that an AR Angry Birds has basically already been demo'd makes an ARKit or ARCore adaptation seem that much more likely. It's a matter of time before this franchise moves into the new medium (and probably becomes the most popular AR game out there).
Monument Valley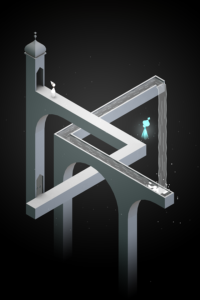 AR is largely about visual intrigue, and in that regard no mobile game has ever stood above Monument Valley. Known for mesmerizing beauty, the game also happens to match the basic format and playing style of some of the early successes in augmented reality. That is to say, it's effectively a puzzle game with a heavy emphasis on geometry and different angles and perspectives. You need only take a glance at some of the lists of the best early AR games to see that there are already a few titles imitating this style of gaming, and doing well with it. A Monument Valley adaptation could be the best of them all, and will probably emerge at some point.
Gonzo's Quest
This could be a particularly interesting game because it's already something of an innovator. Known as one of the best video slots available to online and mobile players, Gonzo's Quest has been praised for its underlying story and video content (which take the game well beyond the slot reel). As one writer put it, the game creates a better sense of engagement by giving you something to focus on. We already know that a VR version of Gonzo's Quest is being developed, and it could make the leap to AR as well – potentially establishing a new standard for casino arcade games in the process.
High Noon
High Noon is the least likely game on this list to see a direct adaptation, but the concept of this game still seems worthy of recognition in this discussion. This was a one-on-one duel shooter that made use of a sort of form of AR. Your job was to pull your phone from a "holster" position and use your screen to locate your enemy, tapping to fire. Duels were held in real-time, but players were represented by animated characters in a cartoonish old West. It's fairly easy to imagine a newer version of a similar game in which players are represented by their own avatars, and opponents appear as if they're in real physical space. Such a game probably won't be attached to High Noon, but even under a different name it would redefine AR shooters.
The Room
The Room seems poised for success for the same reasons that Monument Valley is: it's a beautiful puzzle game with a heavy focus on angles, which pretty much suits an early formula being developed for engaging AR games. We're singling out The Room in particular though because its developer, Fireproof Games, has actually already produced mixed reality content. The company produced Omega Agent for HTC Vive, Oculus Rift, and Samsung Gear VR, stating that it wanted to stay true to the spellbinding nature of virtual reality in designing the experience. This doesn't guarantee that The Room will get an adaptation, but it would seem to make it more likely.
Editors note: This article was a guest contribution.