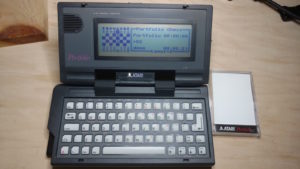 This one has been on my bucket list from the beginning, and I'm happy to say, I was able to make my way through an eBay auction and pick up a mint condition unit that looks great and works even better.
In 1989, DIP Research in Surrey England developed the DIP Pocket PC. They licensed it to Atari in the US and UK, and Atari rebranded it as the Portfolio.
The Portfolio is widely recognized as the first MS-DOS Compatible palmtop computer. It runs a slightly modified version of MS-DOS 2.11.
This unit is in pristine condition, complete with expansion cards with several applications, we well as a card reader that can be plugged into a desktop PC for transferring files.
Specifications:
Manufactured: June 1989
Operating system: DIP DOS 2.11
CPU: 80C88 @ 4.9152 MHz
Memory: 128 KB of RAM and 256 KB of ROM
Display: monochrome LCD (no backlight) 40 characters × 8 lines
Graphics: 240 × 64
Power: 3× AA size removable alkaline batteries (Optional AC adapter)