I had never heard of these machines until one came up on /r/retrobattlestations and I just had to have it.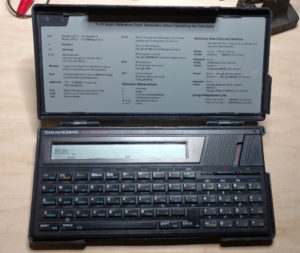 The Basicalc is one of the early programmable calculators that was starting the trend in handheld computing from 'calculator' to 'computer'. The TRS-80 PC-1 is another great example.
The TI-74 has a working BASIC interpreter, as well as the standard calculator functions. It also includes a ROM Module slot that allows for plugin expansion of pre-packaged applications.
Specifications:
TMS70C46 CPU
31 5×7 character LCD
32+4 KB ROM
8 KB RAM
RAM/ROM memory expansion port
Hexbus port
80 characters per line (31 visible)
powered by 4 AAA-size batteries
Happy to have this in the collection!