This week is shutdown at work, so I'm technically on vacation. My wife and I have had several conversations about me shaving off my beard. It's literally been 22 years since I had a cleanshaven face, I honestly wasn't sure what I looked like – maybe vacation is a time to explore something new?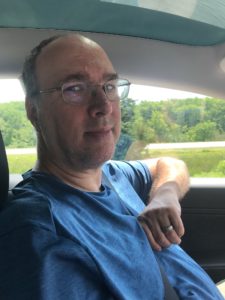 Welp, two days ago I took the plunge and shaved. It feels weird, and actually being able to feel air on my chin is pretty bizarre. I don't think I'll stick with this in the long run. Partly I'm just too lazy to keep shaved, but the bigger reason is I like my fuzzy face, and the cleanshaven look just doesn't feel like me.
Many folks have said I look a lot like my dad… not so sure about that, but either way, it's been a nice experience seeing my real face for once.