Boy am I happy about this one.
I first saw the Epson HX-20 back when I was working a computer store in New Jersey in the 80's. I believe I read some articles about it in Infoworld or something similar, and thought it was awesome. At some point I got to look at one / type a few characters on it, but never got to own one.
Until now!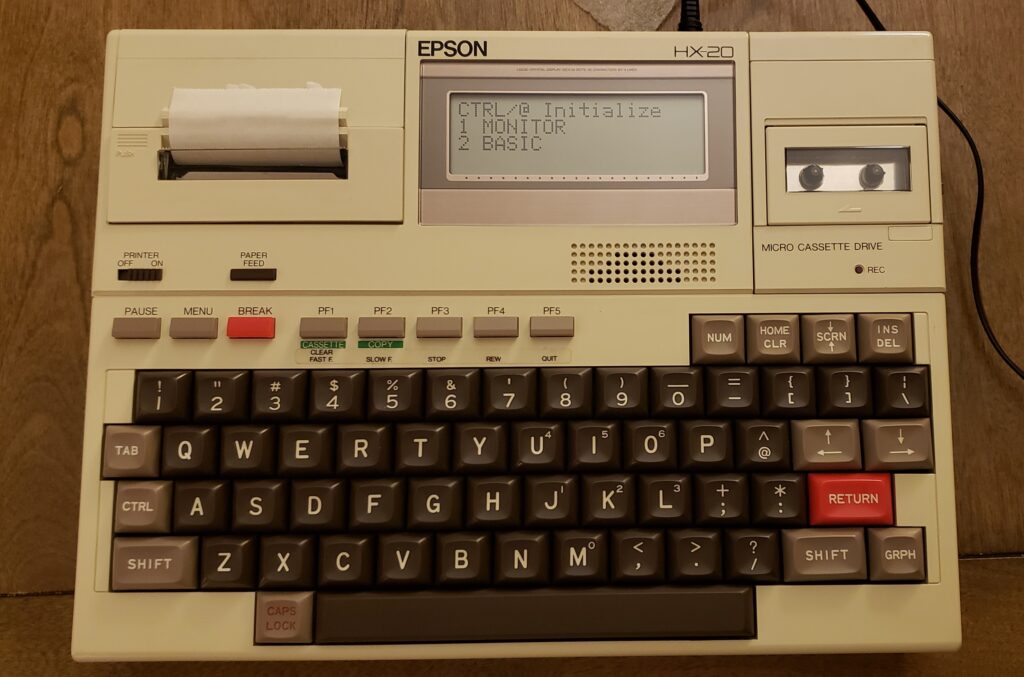 This came to me as part of a large equipment sale not far away. It is in EXCELLENT shape, complete with carrying case, power supply, and a couple microscassettes. The printer works fine, everything is in perfect working order.
Released to mass market in 1982, this is widely recognized as the very first laptop computer. It is A4 sized, has decent battery life, a full stroke, full sized keyboard, and many expansion ports.
Specifications:
Released: 1982
Original price: $795 ($2040 in 2020 dollars)
CPU: Dual Hitach 6301 CPU at 614khz
Memory: 16k RAM (expandable to 32k)
Display: 4lines at 20 characters
Graphics: 120×32
Batteried: NiCad
Weight: 3.5lbs
The unit works perfectly, and is a true delight to type on and tinker around with. I will be a great addition to my collection. I'm looking forward to learning more about it!