I'm in the middle of A Large Project (now online!), and as part of it, I laid out the money on my first actual mechanical keyboard. If you bring up 'mechanical keyboards' in any nerd setting, you'll get some absolutely rabid folks going on about cherry switches, stroke type, PCB design, blah blah blah.
Me, I just wanted a mechanical keyboard that had a nice feel.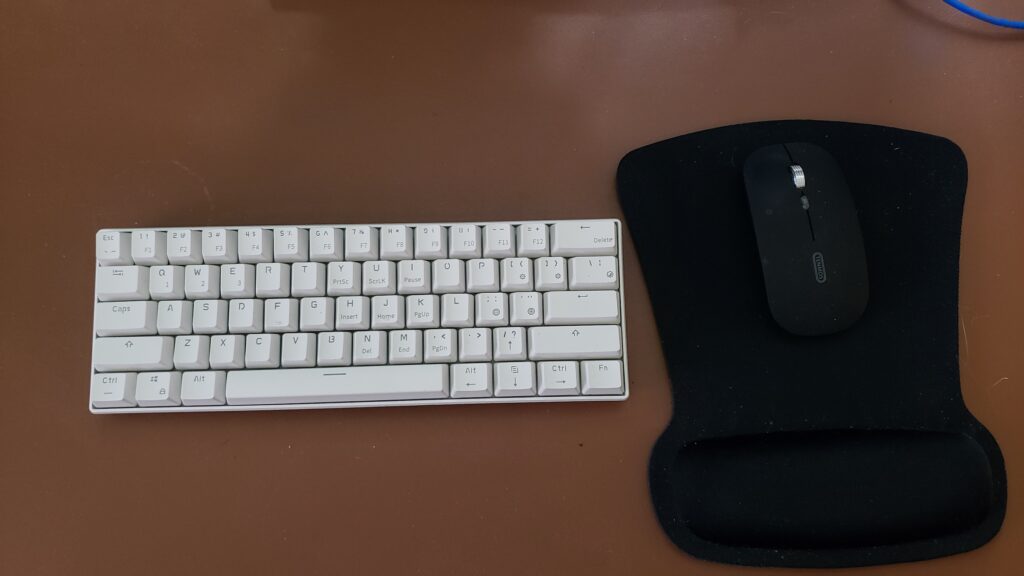 The RK61 fits the model of what I'm building, and it was a good 'entry point' into this concept.
The Deets
The Royal Kludge Rk61 is a 60% mechanical keyboard that has both USBC and Bluetooth connectivity. It has a full stroke set of 'blue switch' keys that have a good tactile feedback. It includes a decent sized battery, so when on full bluetooth mode, it'll run for several weeks before needing to be plugged in.
Here's the breakdown.
60% – This is a '60%' keyboard. This is a loose definition that generally means there's around 60 keys on it, as opposed to the standard 104 keyboard that most people know. The keys are normal sized, so don't let the percentage throw you off
USBC connectivity – used for either HID connection or charging the keyboard's battery.
Bluetooth connectivity – this is nice, in that the keyboard supports 3 bluetooth profiles, and switching between them is just a matter of Function-Q, W, or E. THat's handy since I've been using this for both my gaming PC and my project.
Blue Switch keys. If you talk to any keyboard nerd, this will immediately classify this keyboard for them. The blue switch designation refers to the mechanical switch type used in the keys. In this case, the keys have a very distinctive 'CLICK' sound, and a good tactile feedback. This isn't the best for gaming, but for rapid typing and good feedback, it works well.
Battery – the battery is good. While I don't type on it full time, I've only had to recharge it about every 2-3 weeks, which is just a matter of plugging in the USBC cable.
Lighting – Yes, it has animated lighting. There's all sorts of pretty patterns you can set the keys to. In my case, since I have a white keyboard, the backlighting is soft blue, and I have it simply set to light the key then fade out after I release the key. You can get as fancy as you like.
Some drawbacks
There are a few drawbacks. Probably the most noteable is with only 60 keys, some keys no longer have unique functions. There's not a Function key row – those keys are shared with the numerics and puncuation. There's no separate arrow keys, so those are shared with the right hand modifiers, but most irritatingly, also the '/' and '?' key. I found having the RK61 manual at hand (even in digital form) can be helpful, since there's very little feedback from the keyboard itself when changing modes.
It's loud. I mean, it's a mechanical keyboard, so no duh. But if you're looking for stealth computing on your project machine, this is probably not the right tool. There's ways to 'quiet' these keyboards using rubber o-rings and the like, but I feel if you're at that point, you probably have bought the wrong keyboard.
Conclusion
The RK61 is a solid, well built, and aside from some oddities in the keyboard layout, useable keyboard. In general, I'm enjoying it. It's not cheap, running about $59 on Amazon but if you're looking for a keyboard that doesn't take up a lot of space, has a good feel, and you like full stroke mechanicals, it's not a bad option.