Today I made a hard decision.
8 months ago my venerable VW Passat became unmaintainable. It required a new oil pump, which was going to run around $2000. It had been good for me for 4 years, but with 140,000 miles on it, I was concerned about shoveling more cash into it.
I'd always wanted a Jeep. Heck, what kid didn't? So I shopped around and eventually bought a 2012 Jeep Sahara Unlimited. It had all the bells and whistles, and I had a blast with it. Romping in the woods, plowing through snow in the winter, it was a big Tonka toy.
Eventually though, that Tonka toy, while still fun, was getting impractical. I drive 70 miles a day for work, on a highway, with longer trips up to NH, RI, and out to the Cape. A big off road vehicle that gets 18mpg is not a commuter car. I was spending too much on gas, too much on the car, and it became apparent it wasn't the right type of vehicle for my day to day ride. With a heavy heart, I realized it was time to switch.
Which way to go?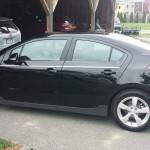 Considering the hybrid/electric car market, the field is somewhat limited.  Obviously the Prius is king, and while it's a nice car, it wasn't something I could get behind.  The Nissan Leaf is also a great (all electric) car, but the lack of an engine meaning it had a fixed range, and couldn't be used for long road trips, and I do those on occasion.  I didn't want to go with some of the simpler hybrids that only provided mild performance gains… and then I started looking at the Volt.
Several folks up at MakeIt Labs have Volts, and in talking with them I learned a lot.  Then I started running the numbers.  A Volt runs on it's battery until the battery is depleted, then switches over to an onboard engine.  This makes it's range effectively infinite, but for the first 35-40 miles, it runs on pure electricity.  Gosh, that's pretty close to my one way commute.  I checked in with the folks at work, and got a "Sure, you can plug it in here" response.   Suddenly I had a car that I could drive to and from work, and not use a drop of gas.  A car that could also go on long road trips, and get decent mileage for that (somewhere around 35mpg).
I started conversations with Colonial Chevrolet in Acton (I've gotten my last 2 cars from Colonial, and been very satisfied with both sales and service.)  They had a couple Volts, and I went in for a test drive.  There is very little to compare to driving an all electric vehicle at highway speeds.  Smooth, quiet, has great pickup, and knowing that you're burning zero hydrocarbons… it's awesome. I was hooked.
After some negotiation, I settled on leasing a new 2015 Volt for 3 years.  We set the miles per year in the contract, and today I said goodbye to my Jeep and drove off in a shiny black 2015 Chevy Volt.
Things I'll Miss
Not all of this is peaches and cream.  While I know I'm doing the right thing – I'm doing the most energy efficient thing I can do to in my commuting situation… this change will impact me in several ways.
Cargo – I moved things in the Jeep.  It had a huge back space (the Passat did too), but the Volt cargo space is much smaller.  I'm not sure how well that's going to work, but we'll see.
Towing – Can't tow with the Volt, which means I can't take my motorcycle in to be repaired, haul a trailer, etc.  It's possible to put a hitch on a Volt, for, say, a bike rack, but I have to be careful there (it is a lease after all)
No AWD/4WD.  I live in New England.  This past winter was the snowiest we've ever had.  The Jeep was phenomenal for this, and I never felt trapped – I knew I could always get out and get where I wanted to go.  That's no longer the case.  I don't know how this is going to impact me, but I'll need to watch for it.
It's not cool.  Okay, it is cool, but in a very different way than a Jeep is.  I won't wave at other Wranglers I see anymore (and they always waved too).   I wonder if Volt owners wave?  There's sure a lot less of them.
Going forward
There's still more things I have to do.  The Volt can recharge on house (110v) current, but it's a slow process.  8-10 hours for a full charge.  A fast charger will cut that down to 3-5 hours, but that requires a 240v outlet and a new charger connection.  Still working out how best to manage that.  For now I'll use my car port and normal 110v recharging.
But…. I now use an electric car for 90% of my driving.  How cool is that?