So a week ago I traded in my Jeep Wrangler for a Chevy Volt.  It was a hard decision, but made sense on so many levels.  I have a long commute (70 miles round trip), do other road trips, etc.  And while I'll miss being able to bang around in the woods and romp through the mud, the Volt has been… all things are considered… pretty damned awesome!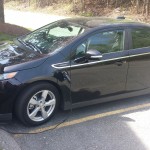 Lets start with the run down.  In the last week, I've driven about 450 miles.  In that time, I've burned a grand total of 2 gallons of gas.  And lets be clear, this isn't because I drive carefully or anything – this thing is fun as heck to drive, and tearing along an on-ramp or powering around someone in traffic is a ton of fun.  This is just using basic energy management.  At night, I plug the Volt into an normal 110v outlet in my garage, which, by morning, means I have a full charge – a battery range of between 40 and 45 miles.  When I get to work, weather permitting and no one is in the parking spot near the outlet, I plug in there as well.  6 hours at work is enough to top off the battery and get me home again.
If I don't get a chance to plug it in?  That's okay… when the battery runs out, the Volt functions like a 'normal' car and runs on the engine, giving a respectable 40mpg.
That's the basics.  Now lets get into the cool geeky stuff.
The car doesn't look like an EV.  It's not a Prius, it's not a Leaf, it's not an Insight, and it's sure as heck not a Tesla.   On the outside, it just looks like your standard smallish sedan.  On the inside it's modern as heck, with 2 color displays, schwoopie internal lines, and comfortable details.  I'm 6'6″ tall, and my son is 6'2.  We fit just fine, though if we're hauling tall kids in the back seats, things can get cramped.  Having said that, even the tall kids find they have enough headroom in the back – it's usually footspace gets a little tricky.  The trunk is certainly smaller than the Jeep (duh), but the car is a hatchback, and while I wouldn't want to haul furniture with it, I can carry whatever project I'm working on in the back without much trouble.
Something I hear from other EV car drivers, I'll pass on here.  If you've never driven an EV car, find a friend who has one, and ask to take their car for a quick drive.  There is nothing in my experience that compares with driving a modern, comfortable automobile under electric power.  It is almost silent, the acceleration is smooth and clean (and strong!!).  It's almost impossible not to smile when pulling this car out of the garage and heading off down the road.  It feels space-age.  We may not have flying cars yet, but this sure feels like we're getting there.
Too many people think of the Chevy Volt like a Prius or similar.  An extremely practical, un-fun car.  Let me tell you folks, this car is seriously fun to drive.  The acceleration is phenomenal when you 'drop the hammer' as they used to say.  According to the interwebz, the 0-60 time is 8.7 seconds, (compared with the plugin Prius at 10.5 seconds.  The Leaf zips at 7.4 seconds – it's a much lighter car with no engine).  My Wrangler would have done that in 10.4 seconds, and burned half a gallon of gas doing it.
This brings up another point.  When I drive the Volt aggressively, I don't feel like I'm doing damage to it, or to the environment, or anything.  I'm using more battery power, sure, but unlike a gas engine (which runs less efficiently when heavily loaded, ie burning more hydrocarbons), the Volt just runs the battery down a little more.  You can wildly vary the efficiency of an internal combustion engine based on driving style, and by efficiency I mean "how much crap you blow out your tailpipe", but the Volt?  The only efficiency you'll hurt is how long your battery will last until it needs a recharge.
Lets talk about some more geeky things.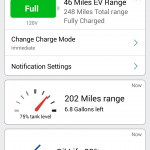 The Volt is an EV car.  I spend 95% of my time driving it on batteries only.  As such, I'm always looking for ways to not use the gas engine.  I've signed up on the ChargePoint network, which gives me a little RFID card, a mobile app, and a network of Level 2 charging stations where I can top off my battery while having some coffee.  A full Level 2 charge of the Volt takes a few hours (An hour on a level 2 charger adds about 10 miles of range to the battery).  So while electric 'refueling' is still a ways off, it's nice to know I can stop off for lunch somewhere and plug in the Volt for a while while I grab a burger.
The other win is the OnStar mobile app.  While I'm skeptical of any of the 'big manufacturer' tools, GM's Onstar stuff is pretty good, and their mobile app is super-handy.  From my phone I can check the status of the car – how the battery is doing, when it'll be charged, how much gas is in it, heck, even what the tire pressures are.  More excitedly, I can remote start it.  In nasty weather, I can tell the Volt to power up and start warming the cabin.  It'll do this purely on 'shore power' (drawing from the power connector, not the engine), so it'll be nice and toasty when I'm ready to leave, without sacrificing range.
Conclusions
While I went into this change for purely practical reasons, I've been pleasantly surprised at how much I'm enjoying the car.  It's performance is great, it's comfortable, and I can't argue with the cost of operation.  One interesting side effect… I get bothered when I'm running on gasoline.  95%of the time I'm emitting zero pollutants.  No CO2, no hydrocarbons, not even making a lot of noise.  But when that engine starts (which is nearly silent, I notice it mostly because my dashboard changes configuration), I start feeling dirty.  I'm BURNING OIL!!!  I picture a bucket of gas on fire.  Ewwww.  Then I look around at all the other cars on the road and go "They're all doing this right now.  Why?"
Maybe it's the shiny… maybe people are afraid of EV cars, or just don't understand them, but for me, I wonder why there isn't a while hogged march toward everyone using cars like this.  There are a lot of hybrid cars on the market right now, but they're in the 'we use an electric motor to make the gas motor use less gas' category.  Why isn't this sort of design more prevalent?