In 2003, Sharp started making a series of PDAs under the 'Zaurus' name. The designs ranged from a small clamshell to a mini-tablet form factor. The SL-5000 was a development version, with the 5500 being the full release.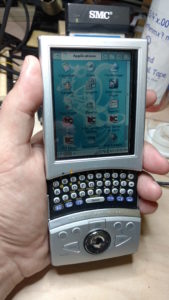 These units got very popular in the Linux community, because they ran a full on Linux distribution, and were easily modified. The original firmware (referred to as SharpROM) while functional, had some limitations. A new project, called OpenZaurus, was born that built a new Linux distribution specifically for these devices, coupled with an opensource graphical environment called OPIE. Later, this work was rolled into OpenEmbedded.
The SL-5500 is a full on Linux device, with enough hardware and expandability to make them really interesting to use. A built in mechanical keyboard behind a sliding cover, a good screen, CF slot for external cards, and SD card slot for storage made it a great mobile device.
Specs:
Running Openzaurus (linux distro) and Opie (desktop environment)
Screen resolution of 240×320 TFT Active Matrix display
206 MHz SA-1110 StrongArm processor
64meg RAM
Approximately 10 hour battery life